SS-MEGA-OWS Oil Water Separator
The SS MEGA-OWS parallel plate oil water separator is sized according to the American Petroleum Institutes Publication No. 421 formula for oil water separator sizing. This separator will remove virtually all free and dispersed oil from the wastewater. The effluent shall contain less than 10mg/1 of oil droplets greater than 20 microns with a specific gravity of 0.89 or less.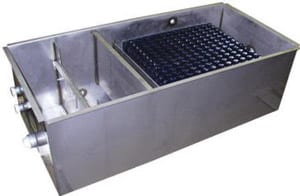 Oil Water Separator General Specifications
Package
Flowrate
Skimmer
Pump
Separator
m3/hr
US gpm
lt/min
System 31
1.5
6.6
25
11/2" Alpha
L100
M04
System 32
3
13.2
50
11/2" Alpha
L125
M08
System 33
6
26.4
100
2" Alpha
L150
M12
System 34
10
44
165
3" Alpha
L200
M24
System 35
20
88
330
3" Alpha
L300
M36
The Standard Oil Water Separator Includes
Removable PVC coalescing media with spacing options for low, medium or high viscosity and solids loading applications.
Adjustable effluent weirs for correct flow and laminar distribution conditions.
Integral oil reservoirs.
Integral effluent chambers.
304 stainless steel lid assemblies with lifting handles.
Oil Water Separator – Materials Of Construction
The tank shell, baffles, fittings and lids are fabricated of 304 stainless steel.
The media pack is fabricated of oil attracting (oleophilic) cross corrugated coalescing media PVC material.
Oil Water Separator – Options Includes
Integral pump rails and skids, freeze protection, level sensors, pump packages and extra fittings.
Polypropylene, 304 or 316 stainless steel media packs for chemical and temperature resistance.
Polishing filter cartridges offer an efficient polishing step for superior removal of oil contamination including emulsified oil.
Upgrade your OWS with a MYCELX Industrial Polisher to remove trace oil, gas, diesel fuel, and other hydrocarbon pollutants so effluent can always be safely discharged.
Renders Oil into a Cohesive Viscoelastic Mass upon Contact
Eliminates Re-Entrainment
Is sensitive enough to treat emulsified oil & robust enough to capture unemulsified oil without plugging up or failing due to high dP which is the most common failure for other polisher media.
Will discharge highly emulsified bilge water at under to 15 ppm with no visible sheen
Replacement polishing filter cartridges infused with MYCELX are available to replace inferior and ineffective filter cartridges.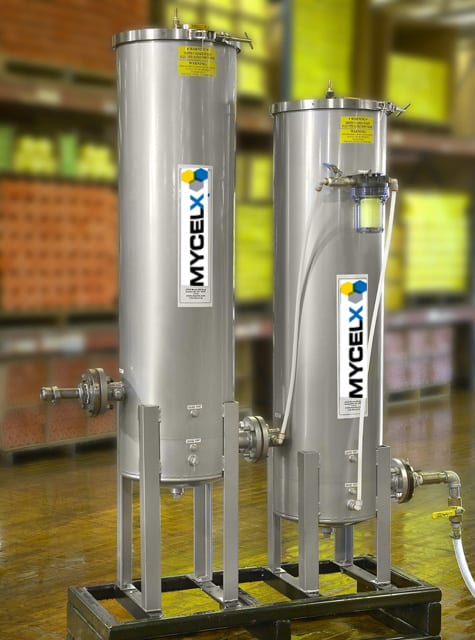 Oil Water Separator – Technical Specifications

Oil Water Separator Resources